Last updated: August 15, 2021
I live in Southern California and like to read, tinker, and putter around the house. This is me: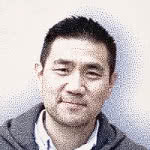 Professionally, my tools of choice are Linux, Ruby, PostgreSQL, Docker, and AWS. I work at TrueCar with our cloud infrastructure, security, data, and software teams to continually improve the state of our operations.
Aesthetically, my tastes lean heavily toward the classic, the timeless, and the functional. For me, that means the ThinkPad, the traditional desktop metaphor, Swiss railway clocks, the W126, and Super Mario World.
I'm terrible at drawing things but would like to get better.
The opinions and views expressed on this site are solely mine, and do not necessarily represent the views of my employer.